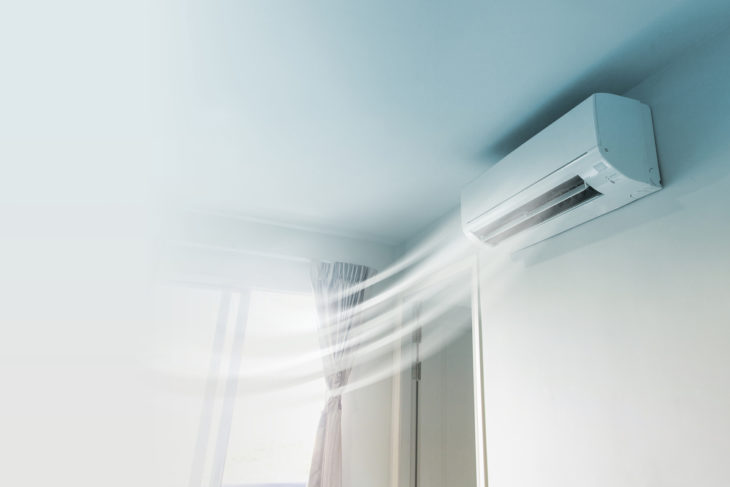 Advice and News, Hints & Tips •
How Professional Air Conditioner Installations Can Help You Cut Your Power Bills
---
Let's face it. Times are tough. Your budget's probably one illness, car breakdown or redundancy away from crisis point. If you can scrimp and save money here and there, it's a normally a good thing. Learning which corners you can cut makes great financial sense. However, air conditioner installations are not one of them. You should always insist on professional air conditioner installations. The upside is that getting a professional to do your air conditioner installations will save you money in the long run. That's especially the case when it comes to your power bill. Here's why you should always 'go with a pro'.
Choice of air conditioning system
Ever had a sliding doors moment? Choosing between ducted air conditioning and split system air conditioning could send your power bill off on a whole new trajectory. The crucial thing is to get it right for your home and your lifestyle.
It isn't just the type of air conditioner you opt for that's important when it comes to your power bill. Size also matters. Choosing an air conditioner that's the wrong size for your needs will cost you more. Too small, it'll have to work harder and be more susceptible to overheating and breakdown. Too large and you'll be spending more unnecessarily. An accurate quote should factor-in a thorough load calculation: The size of the rooms, placement of walls, windows and doors and conditions under which your air conditioner will operate.
A professional air conditioner installer can factor in the size and orientation of your home on the block, its room size and your individual needs to give you the advice you need to choose wisely and well. Your hip pocket will thank you for it. An expert air conditioner installer will give you all the information and advice you need to decide whether a ducted air conditioning system or a split system is right for you.
Choice of air conditioning make and model
With professional air conditioner installations, you get the benefit of years of experience and intimate knowledge about all the brands on the market. That's why you'll find that most professional air conditioner installers are very choosy. They'll only work with a few select brands. They're usually trained and accredited to install those air conditioners, and that training ensures that the installation process is flawless and guarantees that the unit is set up to run at maximum energy efficiency. When you choose an installer who works in partnership with reputable, well-established air conditioner manufacturers you'll have greater peace of mind. There'll be good after-sales service and in the unlikely event that something does go wrong, you'll have a warranty to fall back on, and parts will be readily available.
That's why you might find yourself unable to find anyone to install the cheap air conditioner from a less well-known brand. They're less likely to have the level of after-sales service you'd expect for that outlay. Parts may be difficult, if not impossible to come by. You might even find that no-one will touch your air conditioner with a bargepole, making the process of finding someone to service or repair it nigh on impossible.
You may also find that your bargain basement air conditioner struggles to meet the grade when it comes to energy efficiency. Unlike many other household appliances, installed air conditioners aren't required to display their energy efficiency star rating. Without the 'at-a-glance' information provided on a star rating sticker, it can be tricky to compare the respective energy efficiencies of different makes and models on the market. Getting the advice of a professional when it comes to air conditioner installations means you'll be in a better position to compare and choose from the available options. That has a direct bearing on your power bill.
Getting the installation right in the first place – and why it matters
It's not just doing your research and laying the groundwork that's important when you're considering air conditioning options. It's also the installation process that can make or break your power bill in a few different ways:
#1 Ductwork
If you opt for a ducted system, the system must be designed according to the specific air/heat load requirements of each individual zone/room to be air conditioned. Poor design leads to inefficient running and cooling and can also result in greater running costs.
#2 Refrigerant
Professional air conditioner installations also mean that the difficult exercise that is ensuring the refrigerant is correctly charged to the right level is left up to someone who is both accredited to handle refrigerant, a greenhouse gas, and sufficiently experienced to know what they're doing. Believe it or not, leaking refrigerant or incorrectly charged refrigerant can mean a difference to your power bill in the region of hundreds of dollars annually. Ensuring that there are no leaks and your air conditioner is charged with the right refrigerant as per manufacturer specifications is essential. Your installer must hold a licence issued by ARTICK. If you don't, it's something you shouldn't dabble in!
#3 Getting a handle on how it all works
Sure, you'll read the instruction book, but there's nothing like a one-on-one practical demonstration of how your unit works and how to get the best out of it. If you're a visual learner or learn by doing, your professional installer can show you how it works and how to set it so that it runs most efficiently. They'll also answer any questions you have either on the day of installation or further down the track.
The other hidden pitfalls of DIY air conditioner installations
Money isn't the only thing dodgy air conditioner installations could cost you. DIY and get it wrong, or hire an inexperienced technician who's not au fait with the complex balancing act that is air conditioner installation means that you're putting yourself and your family at risk.
A poorly-installed air conditioner can put you at risk of electrocution or a house fire. Doing it yourself sets you up to void the manufacturer's warranty and potentially can give your insurer a way out if you make a mistake and it causes damage to our home. You might also be breaking the law, particularly if you're dabbling in the electrical side of things and you're not a licensed electrician.
You probably should also be vigilant about who you choose to go crawling around in your roof space and poking around in your rooms. Getting professional air conditioner installations is the way to ensure you have peace of mind. No-one can put a price on that.
Looking for a professional to handle your air conditioner installations? Click here or talk to us today at H & H Air Conditioning in Brisbane on (07) 3276 1800 or on the Sunshine Coast (07) 5477 1777.