Advice and News •
Are you burning cash with your heating bill?
---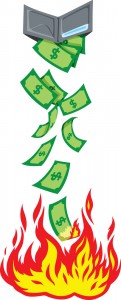 So many Australians are using excess energy to heat their home, and they may already have a heating solution under their nose – their trusty air conditioner!
If your AC system has a reverse cycle mode this offers a superior solution to heat your home than electric heating, and will not burn a hole in your pocket. As the nights get much colder, a reverse cycle system will only use 1/3 of the energy of an electric heater and the benefits do not stop there. (Although a two third reduction off a heating bill is something that should be an incentive enough for people to reconsider their home heating strategy!)
H&H Air Conditioning can supply and install a range of the best brands of reverse cycle air conditioners, and we explain how they work, and their major benefits below. 
Benefits of a Reverse Cycle System
–   One unit for both heating and cooling. Less to worry about and only one system for all the home's heating and cooling needs
–  Better distribution and flow of warm air around the room compared to electric heaters which only heat the area directly in front of the heating element
–  Reverse cycle heating is safer than heaters with no units to tip over, no risk of house fires from open or exposed heating elements.
–  A reverse cycle system will outperform and outlast an electric heater which can rust and stop working effectively after a few seasons.
Reverse cycle systems work by extracting heat from the outside, even in cold temperatures. This is achieved through the refrigerant passing through a coil under pressure and then into the home. The flow of refrigerant and movement of air is reversed in summer for a cooling affect.
How to use reverse cycle systems effectively:
– Use them in conjunction with closing doors and windows and sealing any draughts
– Keep the heating cycle between 18-20 degrees. The ambient temperature will feel warmer than this actual temperature.
– Clean filters regularly for reliable, clean and consistent air flow.
– Pick the right size system for the area that is to be heated (and cooled)
Warm up with a more efficient solution this winter and start saving money on your home heating costs!
TO purchase a brand new air conditioning system with reverse cycle features, contact the air conditioning experts at H&H Air Conditioning today on (07) 3276 1800 for our Brisbane office or (07) 5477 1777 for our Sunshine Coast branch.