Mitsubishi Electric are please to announce their winter gift card Promotion. Purchase an eligible Mitsubishi Electric Air Conditioner by making payment in full during the offer period between 1st April 2018 and 31st July 2018.
****Conditions Apply***** See wwww.mitsubishielectric.com.au/promotions.htm or contact the promotion hotline 1300 303 208.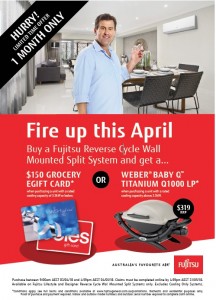 Buy a Fujitsu Reverse Cycle Wall Mounted Split System to be eligible to receive a Grocery Gift Card or Weber Baby Q Titanium Q1000 LP between the 3rd April 2018 ad 4th May 2018. Claims must be submitted by 31st May 2018.
****Conditions Apply*****   See www.fujitsugeneral.com.au/promotions for further details.

Be prepared for year round comfort with Fujitsu's Cool Finance offer. From 9am Monday 16th April to  Friday 18th May 2018, simply purchase a Fujitsu Ducted Air Conditioner on Fujitsu Cool Finance and pay No Deposit and 0% Interest* for 60 months.
Your air conditioning unit must be installed by 30th June 2018
****Conditions Apply******
www.fujitsugeneral.com.au/promotions/coolfinance for further details.